We are all Angels
Author Unknown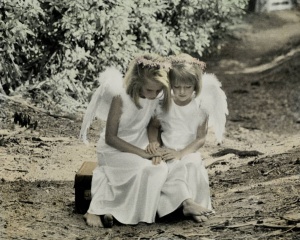 Many people think angels are no longer here,

Like in the scriptures of old when they'd always appear.

Our angels today don't have halo's or wings,

They just go through their lives doing natural things.

They may take out the trash, and work long, hard hours,

But they listen with care or cheer others with flowers.

They may love to eat chocolate and sit down to relax,

But always help ease the burden on many weak backs.

They may like to play games and have fun with friends,

But are the type of a person on whom many depend.

We are all angels without halo's or wings

And we must realize we're capable of miraculous things.


---
Return from We are all Angels back to Homepage
Return from We are all Angels back to Inspiration
If you're looking for something specific, here's your chance to go searching... The Web The special needs child