The Cool Calm Special Needs Mom
ABSOLUTELY FREE eBook DOWNLOAD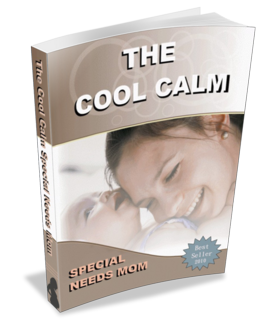 Thank you for a fantastic book.It is not often that you find an eBook packed full of tips that are both practical and helpful.Sometimes the smallest things make the biggest difference.
Sandy - South Africa



The Cool Calm Special Needs Mom was inspired by the fact that most moms with Special Needs Children would like to be one...

But it is a lot easier said than done!

Raising a child with special needs comes with extreme challenges, and there are days that we start to question how we're managing our children, home life and marriage.

Being a mom is one of the toughest jobs and in the world (and most rewarding) but there are times we wonder just how well are we really coping?

While this eBook is certainly not a 'child raising bible', it does give moms many tips and ideas on how to handle everyday obstacles in raising children and gives us the confidence to get up and keep going.

Many are common sense ideas that we sometimes lose sight of in the thick of a trying time. Reading them can be the medicine we need to keep it together and get through another day without any major meltdowns!

Fill out the form below and you will immediately receive "The Cool Calm Special Needs Mom" eBook ABSOLUTELY FREE!

Inside this eBook will find tips on the following:
Quality Time with your child
Parental Competitiveness
Kids Need Boundaries!
Be Consistent
Model saying Sorry
Encourage Sibling Bonding
Needing a Break is OK
Allow Your Kids to Take some Calculated Risks
And much, much more.....
PLUS
The Special Needs Child News - a free subscription to our newsletter which is filled with tips and advice, and keeps you updated with all the happenings here at The Special Needs Child, delivered directly to your email in box.
After completing the form below, you will receive an email asking you to confirm the address given just to be sure someone did not submit your email address without your knowledge. Upon confirmation, you will receive a link to download the ebook.
---
Return from Free Mom eBook back to Homepage