POTTY TRAINING

A SPECIAL NEEDS CHILD



Parents often complain how difficult potty training a child can be, but for most this is a fairly easy experience, if the child is ready. Even when your child shows resistance initially, they will eventually learn. This is however not always the case for a child that has special needs, potty training may be allot more difficult, but achievable.

If you are considering to start toilet training your child, it is important to keep your child's developmental level in mind and not always his age. Most children usually show physical readiness to begin using the toilet between 18 months and 3 years, but not all children have the intellectual or psychological readiness to be potty trained at this age.

Children with physical disabilities may have other problems with potty training, like getting on or off the potty, getting undressed and cleaning up afterwards. A special potty chair or other adaptive equipment may be needed.



BEFORE YOU POTTY TRAIN
---
Before you start potty training your special needs child, there are a couple of factors that you may need to consider:
Medical
Talk to your peadiatrician before undertaking the task of toilet training. Make sure your child has no physical problems with their bladder or bowels. If they are unable to control their bladder, training might not be an option.
Developmental
If your child's development is delayed in any area, the chances are it is delayed here too. Again, rather look at your child's developmental age, and decide whether the time is right to train.
Sensory
A child with sensory integration problems or low muscle tone may genuinely not sense the need to go. They may not realise that there nappy is wet and it may not even bother them. This may make it difficult for you figure out how to train your child and get them to the potty on time.
Emotional
Don't push toilet training to hard on your child as some may find training intimidating. The intensity of your desire for them to reach this milestone can also be alarming for them.
Temperamental
Children who find change and conflict to be stressful, might find potty training to be overwhelming. This can cause regressive behaviour other areas, such as tantruming and explosive behaviour. It may not be worth the added stress, to you or your child, if there are other, bigger issues you have to deal with. Try again later, when he is more ready.
Control
For a child who likes to be in control, potty training is an ideal battleground. You may threaten or bribe, but you are not in control of their bodily functions. An area where the child has the upper hand is probably not one you want to take on when control is an issue.
Peer pressure
Not on your child, but peer pressure on you! Everyone has an opinion on when a child should be toilet trained, but if you are pushing the potty and your child is resisting, you need to ask yourself if you're doing because he is ready or because everyone else is ready for him to be trained. You know what's best for you and your child...not everyone else!



READINESS CHECKLIST
---
Your child's readiness to toilet training is related to his growth and development.

The readiness checklist can help you decide if your child is ready to begin the toilet training process.

Some of the items on the list may not apply to your child, the more items that do apply; the more ready is to begin training.


MOTOR SKILLS

your child can sit with or without support
Your child can squat down without losing his balance
Your child is walking alone
Your child can dress and undress himself
COGNITIVE PERCEPTION

Your child searches for his toys
Your child copies your movements and sounds
Your child plays make believe
Your child can play quietly by himself for 5 to 10 minutes
LANGUAGE SKILLS

Your child can understand simple questions
Your child can show or verbalise his needs
Your child has a name for urinating and bowel movements
Your child can tell you if his nappy is wet or soiled
TOILETING SKILLS

Your child can stay dry for more than an hour
Your child knows what a potty or a toilet is used for
Your child knows when he is wet
Your child is not coping with stressful situations or changes in their routine




YOUR CHILD IS READY - NOW WHAT?
---
Finally you and your child are ready to start "potty training boot camp.The first thing to do is take your child with you, to go and buy a potty. Find one that he likes and is willing to sit, as this can help overcome Initial resistance. When you get home, let your child take the potty and put it in the bathroom, explain to him that this is where he needs to come to urinate.

Start off by letting your child sit on the potty with their clothes on, while you sit on the toilet.Remeber, they learn from and copy, you. If they become restless, you can read a story to keep their mind off what they are doing, and this will start to establish a potty routine.

When your child has become comfortable with the potty, you can start taking off their nappy and letting them sit on the potty. For special needs children, this has to be done often throughout the day. You may also have to show them, by taking a bowel movement from their nappy and placing it in the potty, they will begin to realise that is where it belongs. Let them also take the potty and empty it into the toilet, if this is within their physical capabilities, this is the start of training from the potty to the toilet.

If you meet resistance to any of these steps, back up to where your child feels comfortable and don't move on for a couple days, until he is ready.

Once the above steps have been mastered, start reminding your child to go potty every hour. When they go, be very supportive and praise them for how well they are doing. It is very important to be encouraging and positive.

Accidents do occasionally happen, but it is important to now how to handle them. You can show your child that you are disappointed, but never shout, punish or make a big deal of it. Tell them that's it ok, but to remember to go to the potty quickly when they feel the urge to urinate.

Night time training should only begin when your child can stay dry during nap time, or for more than 6 hours during the day.



TIPS AND TECHNIQUES FOR POTTY TRAINING
---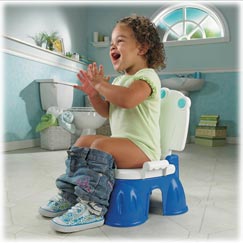 "Rolemodeling" may help your child to learn from imitation. Here are a few other tips that may help you in the training process:
Having an "open-door policy" in the bathroom, help your child to see other members of the family using the toilet and he will learn by imitation
Place a non-absorbency cloth in their nappy and they will learn to become aware when they are wet.
Make the toilet training process fun, reward your child every time he uses the potty successfully and stays dry. Keep a surprise bag, of inexpensive gifts that he can stick his hand into, shake it around and see what he gets. This is encouraging and rewarding.
There are also many products available on the market, like potty training charts or potties that play a tune when your child urinates. You can also put some food colouring in the toilet water, and let your child guess what colour it will change to when he urinates in it.(Blue + urine = green) You can also buy underwear with his favourite cartoon character and explain to him that he must keep the character from getting wet, so when he wants to wee wee, he must quickly go to the potty.




OVERCOMING PHYSICAL DIFFICULTIES
---
If your child has difficulty with toilet training, and achieving control of his bodily functions, will depend on your child's special need, whether it is a physical or cognitive difficulty, and what degree your child is affected.

For many children it is difficult to actually reach the toilet in time, and then to get onto the toilet due to physical challenges. You may have to help your child onto the toilet, positioning onto the seat or even holding them in position whilst on the toilet.

Other children have difficulty in communicating that they need to go, or you as a parent may struggle to explain the ideas associated with potty training, in a way that your child can understand.

There are adaptations that can be made to the bathroom, to help a child with physical disabilities sit on a toilet. For older children there are raised seats, and safety rails to help with positioning and stability. For younger children there are many potty chairs available either free standing or those that fit over a toilet, and have back support for positioning. Either straddling or sitting sideways on the toilet seat, can provide more stability, and make your child feel more secure when using the toilet or potty.

When communication is a problem, it is much easier to actually show your child what needs to be done, and let him learn through watching other family members, using the toilet. If after a while you are still struggling and your child does not seem to grasp the concept, it may be best to seek the help of a professional nurse or a therapist. They will help you set goals, and find easy ways to make them obtainable, in a realistic period of time.




If you're looking for something specific, here's your chance to go searching... The Web The special needs child





Related Articles
---
Tips to make potty training a success.
Deciding to potty train your child is the easy part. The hard part is doing it successfully, so that journey and the end result is both a happy one for you and your child...
Potty training methods.
There are many different ways to potty training your special needs child, but only one fundamental rule, Patients...

---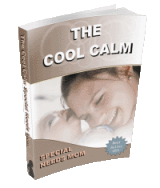 Sign up here
to receive
"The Cool Calm Special Needs Mom"
eBook
**FREE**

---
-STAY UPDATED-

With
"The Special Needs Child eZine"
Our Monthly Newsletter!




---

---