HOMESCHOOLING CHILDREN WITH SPECIAL NEEDS
TIPS...
Families of children with special needs, who are considering homeschooling, often give the same reasons as any other families who school their children at home.

They believe that their children will enjoy a better and more appropriate education at home than in public or private schools.

Some families have struggled for a long time to integrate their children into a school with a find a curriculum that is suitable for the needs of their child.

These kind of circumstances can be very trying, and it can much easier to accommodate the challenges of your child's disability at home, rather than trying to work within the rules of the school system.

Many families who school their children at home, get together for outings and study sessions, and this helps to build a healthy social life and interpersonal skills with peers and other people they meet in the community.

Building inclusive communities in homeschooling groups, can provide lifelong friends and companions who build bonds with children who might otherwise not have had the opportunities for friendships in public or private school.

Many families can be extremely stressed out due to conflict with their special needs children, and the daily care and routines involved.

They find that many of their greatest challenges diminishes when the child is no longer forced to get up and get ready to go to a school, that they don't like or where they may be struggling.

As a parent raising a child with a developmental or learning disability, you may already be putting in several hours of "homeschooling" in the afternoons, after school. All these extra hours can be stressful on your child, and they will be extremely relieved when the "after schooling" ends.

Home school resources are often very helpful when you work with your child after school, and for parents who volunteer in public school classrooms.

Children with special needs, who come home from school tiered and worn out, only to struggle with homework and catching up the days work, are often very relieved with the free time they have, after a schooling day at home.

With homeschooling there is also the flexibility of taking breaks during the school day and working at the child's pace with their studies.

If you have ever wondered about starting a curriculum at home, you can find information locally and also through the internet. These resources will help you to make informed decisions about which options are best for you and your child.

Ofcourse, many homeschoolers admit that they where the last person who would ever have considered homeschooling their child.

Always keep your options open. You may decide at a later date to send your child back to public or private schooling, although it is common to feel a sense of dread if that topic comes up a few months after you have seen the benefits of helping your child to learn at home.

It is, however very important to have the support, advice and encouragement of other parents who teach their children from home, to help ease they way, especially in the early days.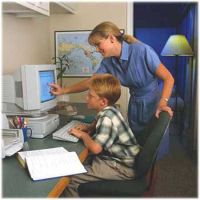 Children with special needs who return to school after their time of learning from home, often surpass the expectations that the school had initially.
In some areas, you may decide to send your child back to school part time for certain classes that have specialist teachers, or for subjects they have a special interest in, that may be too advanced for you to teach them beyond a certain point.
This may be a good idea, as it gives your child the chance to discover their own interests.
You can browse in your public library, local book store or online retailers for for books and information on teaching at home, special education and which curriculums to use.

ABC Fun and 1-2-3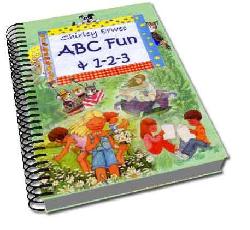 ABC Fun & 123
is

a friendly to use curriculum compiled especially for the pre-school child and can be modified for older or special needs children too.
Realted Articles
---

Is Homeschooling Right For You?

Choosing to homeschool is becoming a very popular alternative for parents who are looking at different approach to their child's education. There are however many different aspects of homeschooling ...


---
Rescources
Forest Trail Academy
Click foresttrailacademy.com to join online homeschool that help students to satisfy curriculum requirements.Check our Course Catalog to view all available courses.


Need some Tips, tricks and techniques for homeschooling young children? You can visit Nancy at The-Children's-Guide and learn how to make homeschooling fun for you and your child.


Homeschooling-Family
Do you have big dreams for your kids? Do you want them to excel not only academically, but also to become great men and women of character? At Homeschooling-Family you can learn with a real family who is currently homeschooling. We want to come along side you and encourage you to be all that God is calling you to be.


Lets Homeschool.
Homeschooling a child with disabilities, special circumstances, unique characteristics, different learning styles, or whatever one wishes to call an unusual challenge, can be done...


Kid Friendly Homeschool Cirriculum.
The Writing Cirriculum is motivating for reluctant writers and builds confidence with simple steps. The instructors guide leads parents to draw ideas out of their students.


If you're looking for something specific, here's your chance to go searching... The Web The special needs child

---