POTTY TRAINING SUCCESS
Tip and Techniques
For potty training success, deciding which potty training methods is the right ones for you and your child, is the easy part. The tougher part is doing it successfully, and in a manner that is easy and relatively stress free for both of you.

These tips and techniques can succesfully be adapted for your special needs child, and I have successfully used them to toilet train both my boys, who have physical disabilities.
Be prepared to begin
Potty training takes time and energy, and it is usually easier to start training in the summer time when it is warmer and they can wear less clothes. Be prepared to start the process and see it through to the end.
Find what works for you
Find a potty training method that works for you. You may have to try a few variations, until you find the one that your child is comfortable with. There are also many different products on the market that can help make potty training fun, and help you to demonstrate what needs to be done, to your child.
Introduce the potty chair early
Introduce the potty chair to your child right in the beginning stages of training, and especially when he starts showing interest in the bathroom and stays dry for more than 2 hours. Show him how it works and instil a sense of potty ownership in him, by taking him with to buy the potty and letting him decorate it with his favourite stickers.

Get comfortable with the idea of potty training
Introduce your child to the potty training supplies that you will be using before you actually start toilet training. This will get him comfortable with the idea of what's happening. Practise with the training pants, washing hands and sitting on the potty chair, before he actually starts using it.
Be positive and patient
Try to be positive and patient - potty training success takes time, and there may be set backs. Children thrive on positive reinforcments.Praise and rewards can help your child master new skills allot quicker and it will keep them motivated during the next stages of potty training.
Be consistent
Be consistent, once they are out of nappies - they stay out of nappies. Don't switch back and forth between nappies and training pants, this will confuse them and might cause them to regress.
Use interactive approaches
To keep your Childs interest, use interactive approaches such as games, videos, songs, books, progress charts and role modelling.
Use teamwork
For potty training success,make sure everyone in your child's life is aware of which potty training method you are using, and that you are in the process of toilet training. When your child is with them, make sure they are consistent with the potty training philosophy, encouraging your little one throughout the process.
Pack familiar potty training supplies when travelling
When travelling, pack all the potty training supplies, favourite books and the potty chair, to ensure that he is as comfortable as possible using the potty in unfamiliar surroundings.
Use motivational rewards
Give small rewards to ensure potty training success sooner, when your child gets through a training stage. You can download badges or crowns, as quick rewards that says, "I am so proud of you!" or keep a "grab-bag" of inexpensive items, such as stickers, bubbles or stamps as rewards.



If you're looking for something specific, here's your chance to go searching... The Web The special needs child

WHY CHILDREN RESIST POTTY TRAINING
---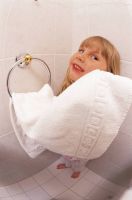 Special needs children often cannot verbalise or properly explain problems they have, or even problems they have with us or our parenting techniques.

The only option they have is then to resist, and this can become evident when we are trying to potty train successfully.

It can be difficult to discern the reason behind the resistance, so it may help to look at a few common causes, as to why your child may be resisting potty training.

Here are a few examples:
Your child may be confused about potty training, what it is all about and what is actually expected of them.
Curiosity about what might happen if he resists.
Fear of the potty or the toilet.
To much pressure to perform.
The potty training method you have chosen may not suit your child's personality or learning style, and they don't feel comfortable.
Physical pain caused by infection or constipation.
Once you have eliminated any of the above causes, take a few steps back to where your child was comfortable, and slowly introduce the next steps in the potty training method to him.

Remember patience is the key to successfully potty train your special needs child - the hard work now will pay off when they are older.

---
Return from Potty training success back to Home page
Return from Potty training success back to Potty training

Potty training methods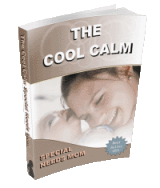 Sign up here
to receive
"The Cool Calm Special Needs Mom"
eBook
**FREE**

---
-STAY UPDATED-

With
"The Special Needs Child eZine"
Our Monthly Newsletter!




---

---