FAQ
AFTER A DIAGNOSIS
There are so many questions parents need answers too, and we aren't always sure who to ask, here are some FAQ, after a disability diagnosis, that may shed some light:

FAQ 1
---
WHAT ARE THE STEPS TO DEALING WITH A DISABILITY?
Dealing with a disability diagnosis, is a very emotional journey, and I can remember feeling guilty, angry and very sad. I felt cheated out of a child I should have had, and all the lost expectations. I kept asking, "Why me?" and what have I done to deserve this, and I kept wondering what I may have done during my pregnancy that may have caused this to happen.
I did not sign up for this! After the initial shock, I went looking for a reason and a way to "fix" this problem - I can now laugh at myself about that! It is very important to go through these early stages of acceptance, just let it happen.


FAQ 2
---
HOW WILL LIFE BE DIFFERENT AFTER A DIAGNOSIS?
This is a process...but you do eventually get there! It may seem as if your world has been turned upside down, nothing is the same anymore, and you may even feel out of control. If you cannot deal with the emotional or physical needs, there is nothing wrong with getting some help. Initially after Darian, my eldest son was diagnosed, nothing much changed. Other children had extra mural activities, we had therapy. It was only when he stopped walking after his scoliosis correction, and went into a wheelchair that our household and everyday family life changed,we finally saw the effects of having a special needs child. It took me more or less a year for a degree of normalcy to return to our household.


FAQ 3
---
COMMON FEARS WHEN YOUR CHILD IS DIAGNOSED WITH SPECIAL NEEDS
Our fears are usually based on misconceptions or sometimes misunderstandings or miscommunications by doctors. We, as parents hear all these terms that doctors use when talking about our children, and we think that our child will never develop or have a personality of their own. Our understanding of what these words mean, are not always accurate.
No matter what your child's disability is, he will develop a personality and become a little individual person, who continues to grow, learn and change.
The most important thing as a parent is to have hope, faith and good dose of stubbornness, and always believe in a future for your child. Our children all have possibilities, especially in today and even more, in tomorrow's society, to be productive in his or her own way.


FAQ 4
---
DO PARENTS HAVE PRECONCEIVED NOTIONS OF WHAT A DISABILITY IS?
I believe we do, especially initially. It is a long journey to learn exactly what our child's special needs are, and how the affect them individually. When we research the symptoms, especially on the internet we are often confronted with the worst possible case scenario, and this can be scary. What we have to keep in mind is that the future for children born before today is very different for the prognosis of a child born today or in the future.


FAQ 5
---
WHAT ABOUT FEELINGS OF GUILT OR SHAME?
Feeling guilty is perfectly normal. Usually we don't know what caused the disability, and you may feel that's it something you caused as a parent. However most disabilities are either sporadic or genetic, there is nothing to feel guilty or ashamed about. Every child, no matter what their disabilities are, have real strengths and abilities, this is what has to be valued and recognised. When your child is newly diagnosed, concentrate on seeing your child for who they are.


FAQ 6
---
HOW DO YOU TELL PEOPLE AND WHAT SHOULD YOU EXPECT?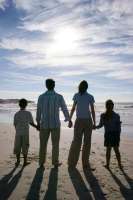 People's reaction to your news may vary considerably, it's best not expect to much. Some people will be instantly supportive, and will help with whatever needs to be done. When people shy away from you, it is most likely because they are scared and not informed. Finally, a lot of people will tell you that there is nothing wrong.

It is especially important, if your child has a genetic disability, what the risk for other family members can be or anyone in your family considering having a baby. They may need to get tested. You can sometimes; however only people about what inform has happened and leave them to make their own choices about what is best for them. When my sister-in-law was expecting, I was horrified that she chose not to be tested for the genetic disorder my boys have. There was nothing I could do about...sometimes you have to learn to walk away.

The people that avoid my boys in our family are the hardest for me to deal with. I want to shake them and make them understand that they are not contagious...they are just like you and me! But over the years, I have come to learn not to expect too much from people...that way they cannot disappoint you. The people, family and friends, who want to be part of your special needs life will be...and those are the people you want around.

So how and what you tell people about your child's disability is a very personal thing, there is no right or wrong way, it's a very individual thing.



FAQ 7
---
IS DEALING WITH A DIAGNOSIS A LIFELONG PROCESS?
For me it has been. The first year or so was the worst, if you can get through that you can get through anything. As the boys get older and go through the stages of their lives, a lot of the emotions reoccur, especially when I look at where they aren't. However these emotions aren't as strong and usually not as severe or crippling as it was when the diagnosis was first made.


FAQ 8
---
HOW DO YOU COME TO TERMS WITH THE IDEA THAT THERE MAY BE NO CURE, AND THIS DISABILITY IS LIFELONG?
This was the hardest thing for me to come to terms with, that there was no cure...I could not fix this! This is a normal reaction when your baby is first diagnosed, you are going to focus on finding a cure, it's a coping mechanism. This can lead to great advocacy and a positive way to channel your energies.
Young parents can be very creative and innovative. I think back to when I was younger, and my son was newly diagnosed, I accomplished so much through energy alone. I cannot even imagine doing everything I did then, now as an older parent. I have realised that as the child with the disability gets older, it becomes more normalized within our family, and we have reached a coping stage within our daily routine. As we grow older, we have less energy, and as older parents we are looking for answers that won't change our children, but rather help that will lessen some of the difficulties that an individual is experiencing. This is what I have been told, is the progression of coping with a diagnosis.
Young parents are often looking for the magic missing ingredient, and sadly they often discover, there isn't one.


FAQ 9
---
IF YOU HAVE A CHILD WITH A GENETIC CONDITION, CAN YOU HAVE ANOTHER CHILD WHO DOESN'T?
This is a very serious discussion you need to have with your doctor.
If you have received a genetic diagnosis, even if it is an isolated congenital condition like Spinal bifida, you are at a slightly increased risk to have another child with the same problem, or something similar.
If it's a single gene or a recessive condition, where both parents contribute a gene to the condition, the chances are greatly increased that you will have another child with the same disorder. There are tests that can be done, before you decide to have another child, your doctor will be able to advise you. There are also tests that can be done if you are already pregnant, and this can lead to informed choice wether you want to continue with the pregnancy or terminate.


FAQ 10
---
WHERE CAN YOU LEARN ABOUT YOUR CHILD'S DIAGNOSIS?
The internet is a good place to start and find associations. Many parent groups have websites that can be supportive and give links to other places. Also, the peadiatrician or specialist who is caring for your child, can give referrals. Genetic counsellors can also answer questions, if the diagnosis was genetic. Nursing sisters, who work with children everyday, can put you in touch with other parents.

FAQ 11
---
HOW IMPORTANT ARE FRIENDS AND FAMILY WHEN DEALING WITH A DISIBILTY?
Friends and family are invaluable and incredibly important, as they can provide respite and emotional support. Just having a friends shoulder to cry on can be invaluable. Reach out and find someone who know's what you are going through and understands it, this can be a huge relief to parents of a newly diagnosed child. You cannot in life get along without friends and a support system in place; this is even truer when you have a child with a disability.

If you're looking for something specific, here's your chance to go searching... The Web The special needs child

---
Return from FAQ back to Home page
Return from FAQ back to Diagnosis

Peadiatrician/ Specialist/ Early intervention/ Doctors and hospitals/ Parenting