BACK TO SCHOOL
Survival Tips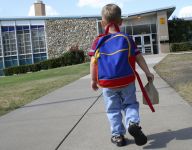 Back to school can be a challenging time for parents and students alike. But for families living with a special needs child, it can be particularly trying.

One of the often overlooked facts about this is that it doesn't go away after pre-school; primary, or even high school. Families dealing with special need often battle returning to school challenges throughout their Childs school career, even through college.

Here are some tips to help you survive the back to school season and even come out ahead of the pack!
Plan for the first day of school, and start discussing it with your child early on. Special needs children function much better if they know what is coming and there are no surprises.
Keep all back to school related conversations positive. Children with special needs are often able to imagine some amazingly bad first days of school. keep things light hearted and focused on how much fun they will be having.
Encourage them and their ability to make friends. Special needs children can sometimes have trouble in social situations and making/keeping friends. Often they miss important social cues, making them appear over-bearing or insensitive to those who don't know them and don't understand.
Have all the supplies ready a while before school starts. Let your child shop for the new supplies with you, and let them get comfortable and familiar with the organizational systems they will be using in the upcoming year.
If possible meet with the teachers before the new school years start. You can take your child along and show them there new surrounding, so that they won't be going into an unfamiliar situation on their first day back to school.
Remind your child that they are smart and clever. There are occasions at school where your child may be criticised by well-meaning teacher or stressed out faculty member and they may begin to doubt themselves. Don't let this happen. Encourage your special child to excel and embrace their unique learning style.
Have fun! Keep conversations and preparations for the first day back to school, light hearted and proactive. Talk about it often, plan the outfit, breakfast and lunch, even what they will do during break time. The less that is unknown to them, the more confident they will feel starting a new year, with new teachers and new friends.
With these survival tips, embrace the new school year.

Sometimes we anticipate the stress that we know is about to come and we actually end up creating it.
As parents, there are so many things we must do and tolerate, and staying calm and positive, even when our children are getting on our nerves, is also on that list.
Try some of these tips to survive the first day back at school, it will make a big difference for the rest of the year as well.



If you're looking for something specific, here's your chance to go searching... The Web The special needs child

MORE TIPS...
---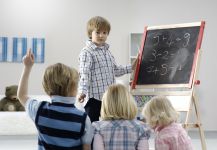 It's back to school time for your special needs child, and they may be feeling anxious or confused about what is expected of them at the beginning of a new school year.

You can start by preparing your child for the end of the holidays and the beginning of a new year, by taking them for "back to school" shopping.

By taking your child with to buy the supplies needed for the new school year, it involves them from the start and they can choose backpacks and some of the supplies that they like, and would like to have.

At home, let your child put his new supplies into a special box, while you check them off on a list. Doing this will excite your child and he will look forward to the day, that he can start using the new school stationary.

Two weeks before school starts, make a calendar with your child, let them draw pictures or put stickers to decorate the calendar, and start counting down the days to the start of school. On the calendar, also include the activities that will be done at home, once school starts. This is to show your child, that life at home will still be the same and stable, school is just being added into the routine.

Teachers are usually back at school a few days before the students actually start. For a special needs child, a change in their daily routine can be very traumatic. Let the school know that you would like to bring your child in before he officially starts school, so that he knows where he will be dropped off and picked up. Where his new classroom is, where the office and the bathrooms are. This will help will your child feel more comfortable, in control and confident when he goes back to school, and not so intimidated by the unknown.

Also, let your child know, that his teacher will explain to him where to go, and what to do in the first couple of weeks when they are back to school. It is standard practice in special needs schools for the teacher to have a sign on the door, with a picture to let any child know where the class is at present. This is very helpful for any student who has been out of the class, at a therapy or who may have come in late due to a doctor's appointment. Explain to your child, that his teacher will spend a couple of weeks making sure that all the students know where extra mural activities are held, and teaching them how to find there way there.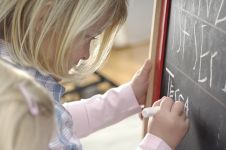 Every family has there own way of marking the end of the school holidays, and the beginning of a new school year.

Families with special needs children may have many additional and recurring tasks and preparations, but it is good to remember, and mark the progress your child has made from the previous year.

Transitions will become easier every year, and new "back to school "milestones will be acknowledged and celebrated by the whole family, building better memories and improving the quality of life you enjoy with your child.

Browse at bookstores, public libraries and online retailers for books to read to your child about the first day back at school. These books are available for preschoolers, as well as for teens.
---
Recommended Reading:
Back to School
---
Return from Back to school back to Home page
Return from Back to school back to Special education

Schooling options/ Whats parents need/ What Special educators need/ Parents evening/ Contact log/ Paraprofessionals