WHAT IS LOW MUSCLE TONE?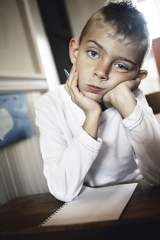 Low muscle tone or hypotonia is a term used to describe a low or decreased strength in the skeletal muscles of the body.

Normally, your child's body will have a certain amount of tension or tone in the muscles, even when they are relaxed. With a muscle tone that is low, this normal tension is not present.

Your doctor is able to diagnose this early on in your baby, as they may seem floppy and have trouble their heads up.

In more severe cases, as your child get's older he may have trouble standing, walking and sitting. He may also need to get leg braces, a walker or other assistance to move around.

The loss of muscle tone may be caused by by many different types of genetic disorders, central nervous system disorders or muscle diseases.


If you're looking for something specific, here's your chance to go searching... The Web The special needs child





Recommended Toys:
Low Muscle Tone
---
Hypotonia related disorders
There are many disorders related to low hypotonia.Here is a comprehensive guide on hundreds of conditions ...

---
Return from Low muscle tone back toHome page
Return from Low muscle tone back toTherapies

Occupational Therapy / Physicall Therapy / Speech Therapy/
Fine motor skills/ Gross motor skills/ Sensory Integration/